Hey friends!
I know I haven't really shared a lot about my other creative endeavors on my blog but as I am setting up this new space (and new drop down categories up at the top of my page!) I decided to add them here since it's a part of my weekly crafting. For those who really only follow for card making, no worries, this blog will still mostly be cards and paper crafting (it's my full-time job!) but I know SO many of you also enjoy cross stitch, quilting, sewing, and all kinds of other crafts and have asked to have a spot to see it all easily! I think as crafters we all enjoy more than one medium. Anytime, I share anything about stitching or quilting, the title of the post will start with "Flosstube & Quilting" just like my YouTube videos.
Today I wanted to share that the Fat Quarter Shop Limited Edition Jolly Box is available for pre-order.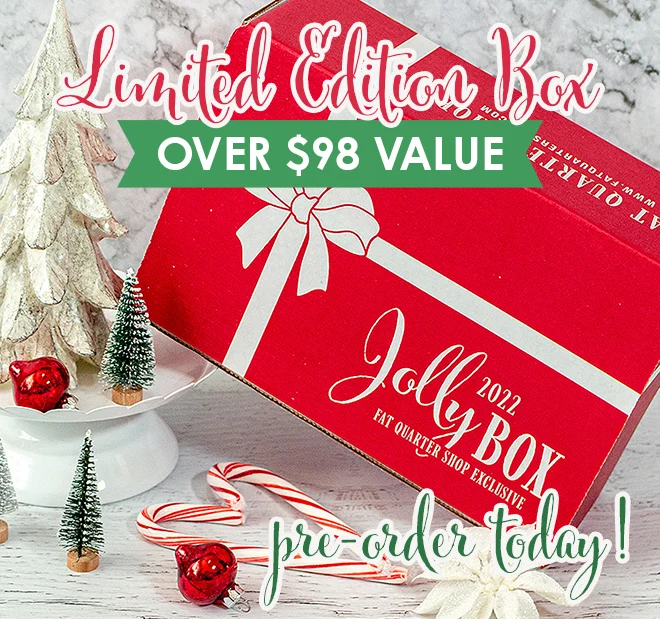 The 2022 Jolly Box is a limited edition collection of quilting items that will make your holidays just a bit brighter! Make sure you get one under your tree while you have a jolly good chance!
Reserve your box now to lock in a special low price of $51.99 + reservation fee. The box contains items valued over $98, which results in over $40 in savings!
After pre-orders have shipped, any remaining Jolly Boxes will be $61.98. Boxes are expected to ship in mid-November.
These mystery items can only be found in the Jolly Box, so make sure to order yourself one today and one for a friend. Santa would want you to share!
Don't delay – this box is available in limited quantities!
When the box arrives here I will be filming an unboxing and sharing on my YouTube Channel.
Please be sure to follow me on YouTube and see my quilting and stitching progress weekly in my Flosstube Series! Have a great day!