Hello card makers! Today I have a super fun video for you featuring using Spellbinders Wax Stamps and Wax Beads on your projects. This is such a fun technique (and quite addicting!). In the video I share how to organize these new supplies, how to create wax seals, tips for getting great results if the first seal isn't quite what you wanted, and finally how to pull it all together into a spectacular card. You're going to want to make wax seals for all the things!
Affiliate links are used throughout this post at no additional cost to you. This allows me to keep bringing you content. Thank you all for your support!
Video Tutorial
How To: Wax Seals
Products featured:
Spellbinders Wax Beads (colors linked below)
More supplies linked in the supply list at the bottom of this post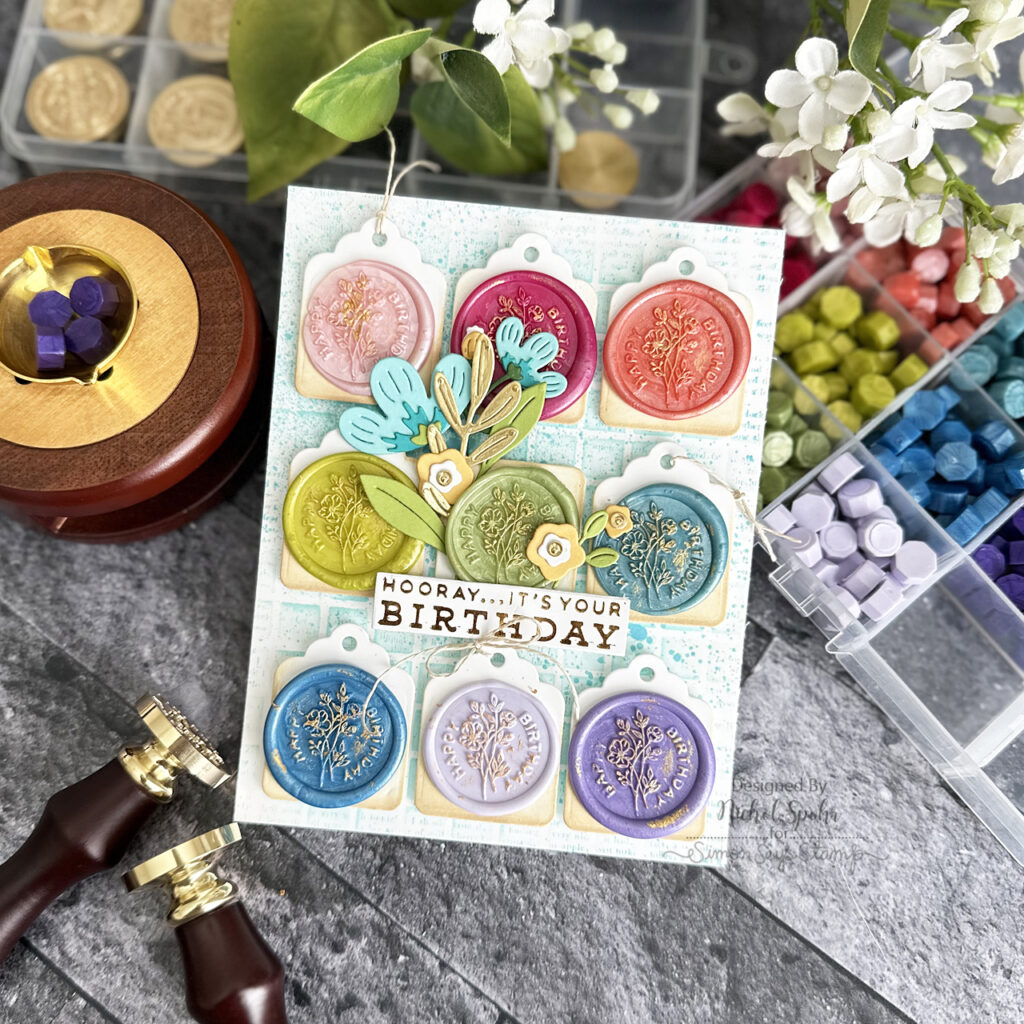 Supplies
Below you will find links to the supplies used to create this project(s). Click the thumbnails to start shopping. Where available I use compensated affiliate links at no extra cost to you. Your support helps me to keep bringing you new projects and videos. Thank you!
WS-001 Spellbinders WAX SEAL KIT

WS-049 Spellbinders CHRISTMAS TRUCK…

WS-046 Spellbinders DO NOT OPEN Wax…

WS-015 Spellbinders WILDFLOWER HAPPY…

WS-078 Spellbinders Pink Damask Wax…

WS-076 Spellbinders Classic Crimson…

WS-077 Spellbinders Magenta Wax Beads

WS-079 Spellbinders Coral Wax Beads

WS-080 Spellbinders Citrine Wax Beads

WS-081 Spellbinders Matcha Wax Beads

WS-082 Spellbinders Laguna Wax Beads

WS-083 Spellbinders Mystic Blue Wax…

WS-084 Spellbinders Pastel Lilac Wax…

WS-085 Spellbinders Enchanted Wax Beads

WS-086 Spellbinders Twilight Purple…

WS-087 Spellbinders Driftwood Wax Beads

S5-530 Spellbinders PARCEL AND POST…

WS-075 Spellbinders Sealed Wax Seal…

S3-427 Spellbinders ASSORTED TAGS…

GLP-305 Spellbinders SENTIMENTS FOR…

Hero Arts Cling Stamp NOVEL PROSE…

GLS-005 Spellbinders GLIMMER HOT FOIL…

GLF 014 Spellbinders GOLD Glimmer Foil

Tim Holtz Distress Oxide Ink Pad…

Tim Holtz Distress Oxide Spray…

Hero Arts GOLD WAX NK452

Tim Holtz Distress Oxide Ink Pad…

Lawn Fawn SUNFLOWER Cardstock LF1119

Lawn Fawn CILANTRO Cardstock LF1372

Lawn Fawn NOBLE FIR Cardstock LF1120

Lawn Fawn MERMAID Cardstock LF1121

Simon Says Stamp Cardstock 100#…

Neenah Classic Crest Ultra Thick 110…

Hammermill WHITE 100 LB SMOOTH…

Simon Says Stamp Cardstock MATTE GOLD…

Studio Katia EMBELLISHMENT WAND sk014

Simon Says Stamp 3D FOAM SQUARES…
Shopping
Click the links below to shop the entire Spellbinders Wax Seals Collection. Affiliate links used.
| | | |
| --- | --- | --- |
| WS-001 Spellbinders WAX SEAL KIT | WS-066 Spellbinders Birthday Banner… | WS-072 Spellbinders Thanks For… |
| WS-088 Spellbinders Small Solid… | WS-089 Spellbinders 3 Pack Wax Seal… | WS-008 Spellbinders FORGET ME NOT… |
| WS-049 Spellbinders CHRISTMAS TRUCK… | WS-060 Spellbinders GIFT BOW Wax Seal… | WS-062 Spellbinders SCATTERED FLOWERS… |
| WS-024 Spellbinders 0.75 inch SOLID… | WS-006 Spellbinders THANKS MANDALA… | WS-048 Spellbinders JOY SWAG Wax Seal… |
| WS-012 Spellbinders MYSTIC BUTTERFLY… | WS-051 Spellbinders GIFTS ON ARRIVAL… | WS-018 Spellbinders LOVE YOU HEART… |
| WS-016 Spellbinders SWEET HAPPY… | WS-055 Spellbinders HAVE A NICE DAY… | WS-047 Spellbinders MERRY CHRISTMAS… |
| WS-007 Spellbinders HANDMADE Brass… | WS-046 Spellbinders DO NOT OPEN Wax… | WS-056 Spellbinders HEART TIC TAC TOE… |
| WS-010 Spellbinders FRAMED CONGRATS… | WS-023 Spellbinders SENDING FLOWERS… | WS-011 Spellbinders FOREVER ROSE… |
| WS-015 Spellbinders WILDFLOWER HAPPY… | WS-017 Spellbinders MANDALA Brass Wax… | WS-025 Spellbinders 1 inch SOLID… |
| WS-026 Spellbinders SENDING A HELLO… | WS-075 Spellbinders Sealed Wax Seal… | WS-038 Spellbinders PASTEL PINK Wax… |
| WS-078 Spellbinders Pink Damask Wax… | WS-039 Spellbinders FUCHSIA Wax Beads | WS-076 Spellbinders Classic Crimson… |
| WS-042 Spellbinders RED Wax Beads | WS-077 Spellbinders Magenta Wax Beads | WS-041 Spellbinders PEACHY PINK Wax… |
| WS-079 Spellbinders Coral Wax Beads | WS-030 Spellbinders GOLD Wax Beads | WS-080 Spellbinders Citrine Wax Beads |
| WS-081 Spellbinders Matcha Wax Beads | WS-043 Spellbinders GREEN Wax Beads | WS-034 Spellbinders TEAL Wax Beads |
| WS-040 Spellbinders PASTEL AQUA Wax… | WS-037 Spellbinders PASTEL BLUE Wax… | WS-082 Spellbinders Laguna Wax Beads |
| WS-083 Spellbinders Mystic Blue Wax… | WS-036 Spellbinders ROYAL BLUE Wax Beads | WS-084 Spellbinders Pastel Lilac Wax… |
| WS-085 Spellbinders Enchanted Wax Beads | WS-086 Spellbinders Twilight Purple… | WS-035 Spellbinders COPPER Wax Beads |
| WS-087 Spellbinders Driftwood Wax Beads | WS-045 Spellbinders ANTIQUE GOLD Wax… | WS-031 Spellbinders SILVER Wax Beads |
| WS-032 Spellbinders WHITE Wax Beads | WS-044 Spellbinders PEARL WHITE Wax… | WS-033 Spellbinders BLACK Wax Beads |